February 3, 2012 in F1, F1 2012, Felipe Massa, Fernando Alonso, Ferrari, Force India, Formula 1, McLaren, Nico Hulkenberg, Paul di Resta
Ferrari were forced to postpone their grand unveiling of their 2012 challenger, creatively named the F2012, due to heavy snow fall. That didn't stop the Maranello based team from posting pictures online and showing it off to the world. 
So there it is ladies and jellyspoons, the new Ferrari F2012. Like Caterham they have  adopted the silly platypus nose.
For more pictures, head over to the Autosport site, they've got a cracking gallery. Or you can go to the Ferrari website where you can find pictures and technical details. 
Force India
It was also Force India's turn to unveil their new car, the VJM05 down at Silverstone.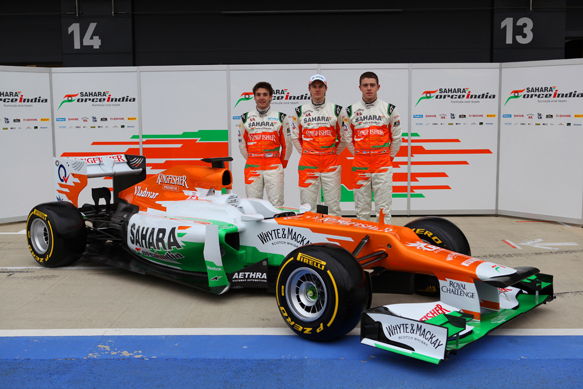 Like Ferrari and Caterham, they've also adopted the silly platypus nose. To see more pictures of the car and it being unveiled go to the Force India Facebook page. Hopefully they'll post some images on their website soon.
It's starting to look like the step-down noses are going to become the norm this year, I'm beginning to wonder if McLaren have made a mistake. I suspect I'm not the only one thinking that.
What do you think of the new cars so far? 
Out of the two I think I prefer the Force India, the livery doesn't seem to make the daft nose so obvious.
Related Posts: