February 1, 2012 in F1, F1 2012, Formula 1, McLaren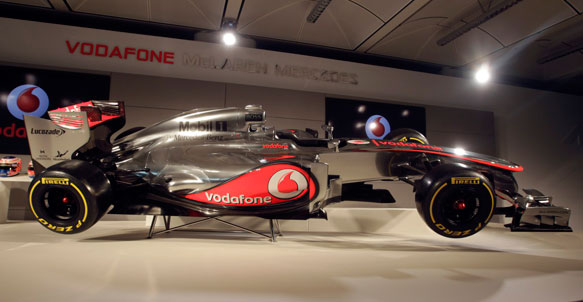 McLaren unveiled the MP4-27 in Woking today infront of journalists, which was streamed via their website. 
You can see more photos of it McLaren's 2012 challenger on the PlanetF1 site.
Speaking about the new car, Lewis Hamilton joked that the team had improved the wing mirrors on the car saying "Felipe will be very happy with that.".
Martin Whitmarsh has said the team won't know the full performance of the car until the second round, the Australian Grand Prix. When asked whether the team will sand bag during testing Whitmarsh said they would.
McLaren have posted the technical specifications for everyone to see on their website.
If you'd like to see the difference between the 2012 car and the 2011 car you can see that on the F1 Fanatic site.
What do you think of the new McLaren? I'm just glad it hasn't got a silly nose like the CT01 or the new Ferrari.
Related Posts: